When:
October 12, 2019 @ 7:00 pm – 9:00 pm
2019-10-12T19:00:00+01:00
2019-10-12T21:00:00+01:00
Where:
Irish Whiskey Museum
119 Grafton Street
Contact:
Irish Whiskey Museum
(01)5250970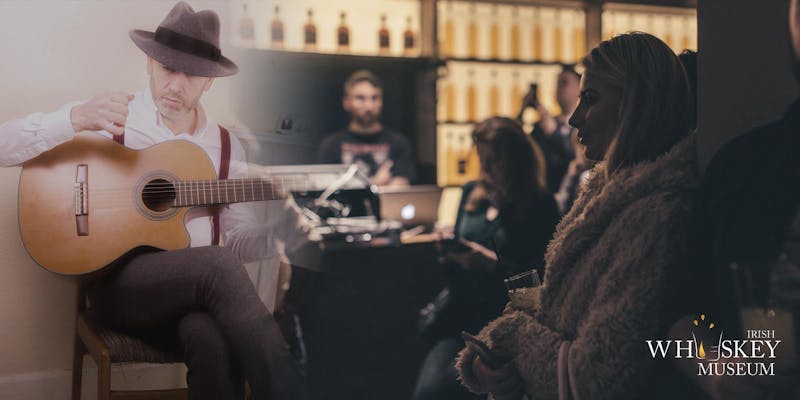 Gerry Tully brings folk music to the Irish Whiskey Museum
Gerry Tully is a native of Meath, Ireland, who has carved himself a reputation as an outstanding performer, entertaining audiences with his own evocative style. A natural, self-taught musician with a vast repertoire from across the folk genre, Gerry's performance compels you to listen as if hearing well-known classics for the first time, drawing you into his world.
Gerry toured Ireland, England, and Germany with the Traditional group Coisir and he also toured Europe and America with Derek Warfield the front-man for the renowned ballad group The Wolfe Tones. In 2008 Gerry released his debut album 'Leaves Float Down' and began touring which included performances alongside Ronnie Drew, Finbar Furey and Don Baker. Gerry performed at the Folk en Pagaille Festival in France 2012 and returned to headline the event in 2013.
In 2014, Gerry opened the first ever Irish festival weekend dedicated to the music of Leonard Cohen in Liberty Hall, Dublin. To mark the occasion Gerry launched his 'Maverick' EP.
Having taken a break from performing, Gerry returned to his folk roots with a new album 'Things Heard', a collection of folk songs from Ireland, Scotland, and England, including three originals in 2017. The songs deliver a message of timeless relevance, of cultural upheaval, personal loss, and social exclusion.
Gerry continues to perform around Ireland including his long-standing residency in Brogan's Bar in Trim. In January of 2019, Gerry performed at The Legend of Luke Kelly 35th anniversary concert in Vicar Street alongside Chris Kavanagh, John Sheehan, and members of Luke Kelly's family.
Join us at the Irish Whiskey Museum, in the heart of Dublin's City, for a truly Irish evening! Our bar serves a variety of gins, as well as pints of Guinness, Irish coffees, beers and cocktails and, of course, whiskey!
Get Your Free Ticket Here